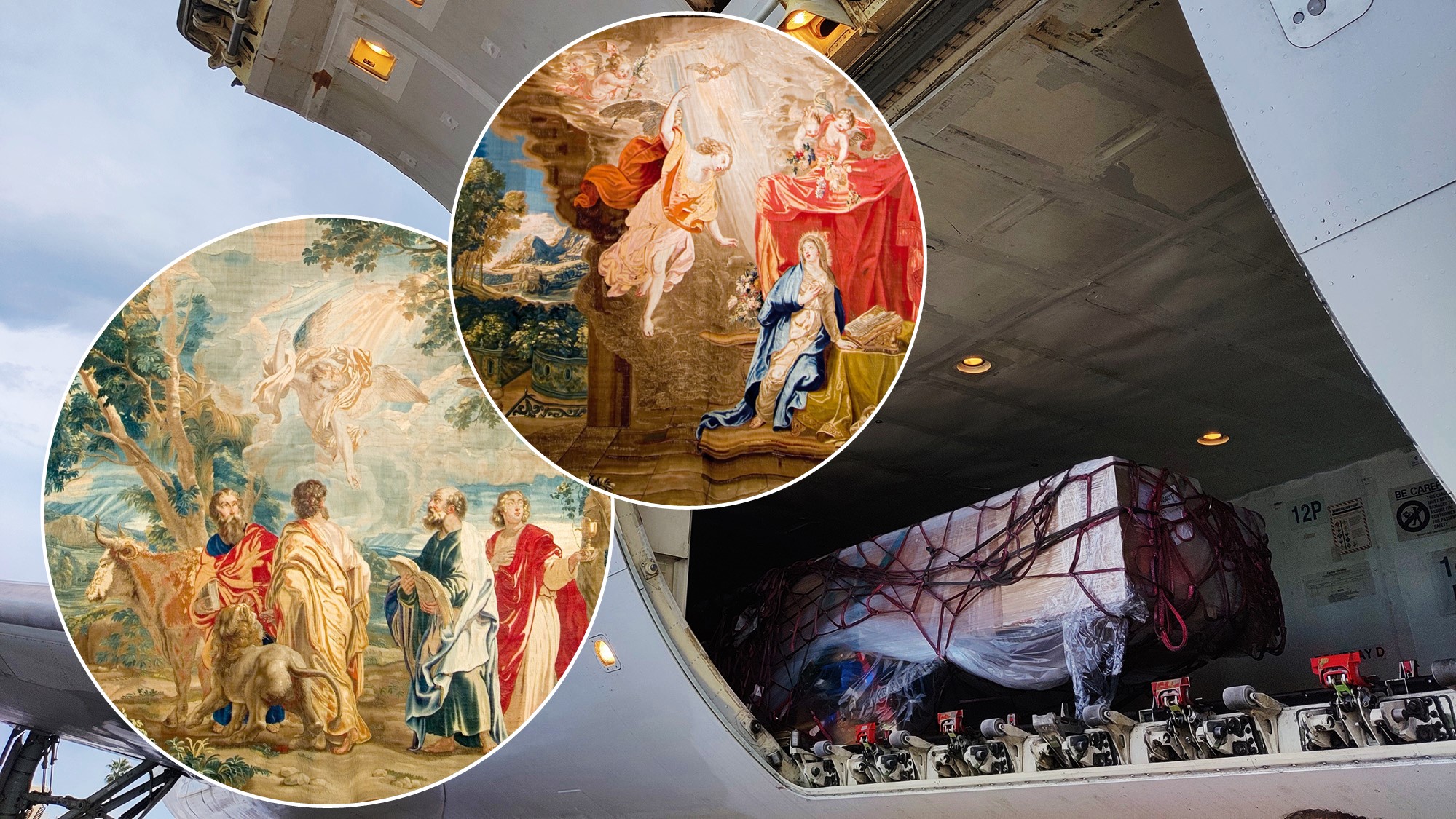 The last two Tapestries return to Malta after restoration
On Monday 14 November 2022, two unique tapestries woven on the cartoons of world-renowned artist Peter Paul Rubens returned to Malta following restoration in Belgium. The two tapestries, forming part of a set of twenty-nine, were the last two tapestries sent for restoration in 2017. They depict the Annunciation and the Four Evangelists. The set was flown courtesy of Challenge Group, an international air cargo conglomeration operating for its first time in Malta.
The project which now has been finalised started in 2006 when the St John's Co-Cathedral Foundation sent the first set of tapestries to the Royal Manufacturers De Wit Laboratories in Belgium for restoration.
The set was commissioned by Grand Master Ramon Perellos y Roccaful who had just been elected Grand Master and wished to furnish the Knights' Conventual Church of St John in Valletta with a series of tapestries to be hung on specific feasts days. The set reached St John's in 1702. It is the largest set of tapestries woven during the Baroque Age.
The extension of the museum currently underway will house this collection of tapestries all together in the Tapestries Chamber, within an ideal environment using adequate lighting, climate control and didactic means.
The St John's Co-Cathedral Foundation wishes to thank the Ambassador to Belgium, H.E. Clint Tanti, Mr Edward Micallef, general manager of the Challenge Group. Captain Christopher Pace who together organised the return of the tapestries. It also thanks De Wit Laboratories in Belgium, Transpak Malta, the Ministry for Foreign and European Affairs and Trade, the Ministry for Transport, Infrastructure and Capital Projects and the Ministry for The National Heritage, The Arts and Local Government.
The tapestries had originally been woven in Brussels by the tapestry merchant and weaver Judocus de Vos in the late seventeenth century. Fourteen large tapestries, each measuring just short of seven metres in width, depict scenes from the life of Christ and allegories portraying the Triumph of the Eucharist. Another fourteen smaller panels represent the Virgin Mary, Christ the Saviour, and the Apostles. One tapestry portrays the benefactor, Grand Master Perellos. The tapestries were woven in pure silk and wool and, since textiles are susceptible to deterioration from handling and being exposed to UV light, with the passage of time, their restoration had become necessary to preserve them.
The methodology of the restoration process consisted of the removal of accumulated dust from the surface, followed by the application of a fine mist solution of water and solvents until the fabric was thoroughly cleansed. The tapestries were dried by a special quick drying process to avoid shrinkage. Earlier restorative interventions were removed, loose parts and threads were consolidated, and open seams were repaired. The tapestries were then fitted with a new supportive lining to prevent deterioration. The designated areas for the display of the tapestries were equipped to safeguard their preservation.