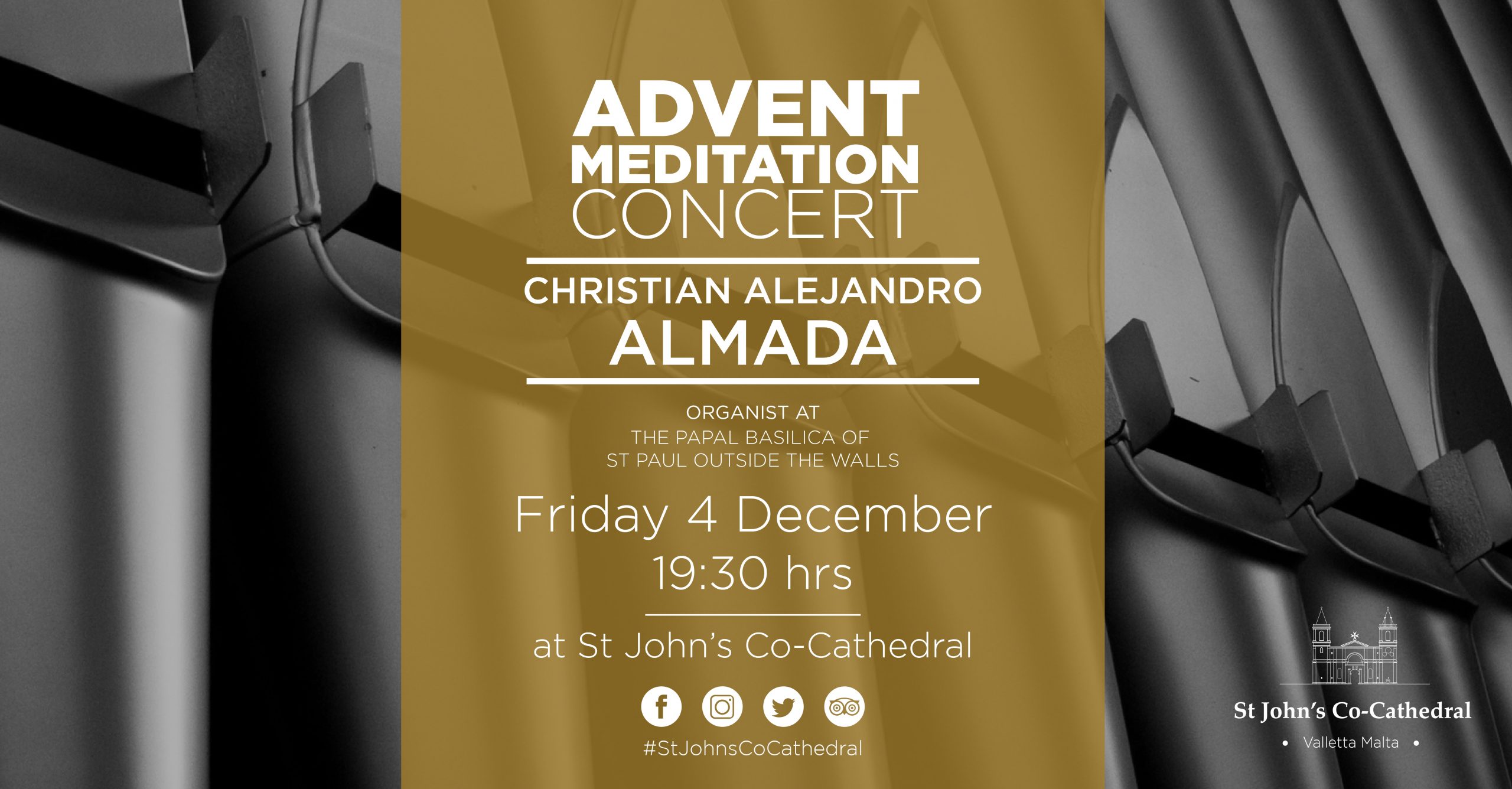 Advent Meditation Concert by Organist Christian A. Almada
The St John's Co-Cathedral Foundation proudly presents an 'Advent Meditation Concert' on Friday 4 December 2020, at 19:30 hrs, at St John's Co-Cathedral, Valletta Malta. The organ concert will be performed by Christian A. Almada, organist at The Papal Basilica of St Paul Outside the Walls, Rome, Italy.
Due to limited space, and for the health and safety of the audience, this Organ Concert is based on First Come First Served basis.
Doors open at 19:00 hrs.
Concert starts at 19:30 hrs.
Maestro Christian Alejandro Almada, graduated as a piano player from the superior Conservatory of music of Cordoba (Argentina) and completed his studies at the Santa Cecilia Conservatory (Rome). Under the guidance of Maestro Theo Flury, he obtained first and second level degrees in organ and organ composition at the Pontifical Institute of Sacred Music (Rome).
Specialised in Gregorian Chant – to which he has dedicated himself daily for more than twenty-five years – he collaborates with numerous monastic communities as a vocal trainer and teacher of Gregorian chant and liturgical organ: mainly with the Abbey of San Paolo fuori le Mura as well as with Montecassino and Camaldoli, and with several monastic communities.
Since 2008 he has been the titular organist of the Papal Basilica of San Paolo fuori le Mura (Rome), where since September 2015 he has been in charge of the Music Office – which he created. During the Jubilee of Mercy, he founded and still directs various choral realities for the liturgical service of the Sunday celebrations of the Papal Basilica including the 'Polyphonic Liturgical Choir of San Paolo flm'. For these liturgical realities he composes vocal and organ pieces.
His career is marked by an intense and uninterrupted concert activity. He started at a very young age as a solo pianist and accompanist, first cantor and conductor of Gregorian chant as well as solo organist and in chamber groups and orchestra. He has performed in various countries around the world.
Maestro Almada is a former Choir Master and first cantor of the Pontifical Athenaeum Sant' Anselmo (2004-2010) as well as lecturer in the Monastic Institute at the same Athenaeum (2008-2010). As a graduate in Philosophy and Doctor in Public Theology, he regularly holds conferences and lessons related to these areas in Italy and abroad, and accompanies various groups of lay people in their reflection on the faith.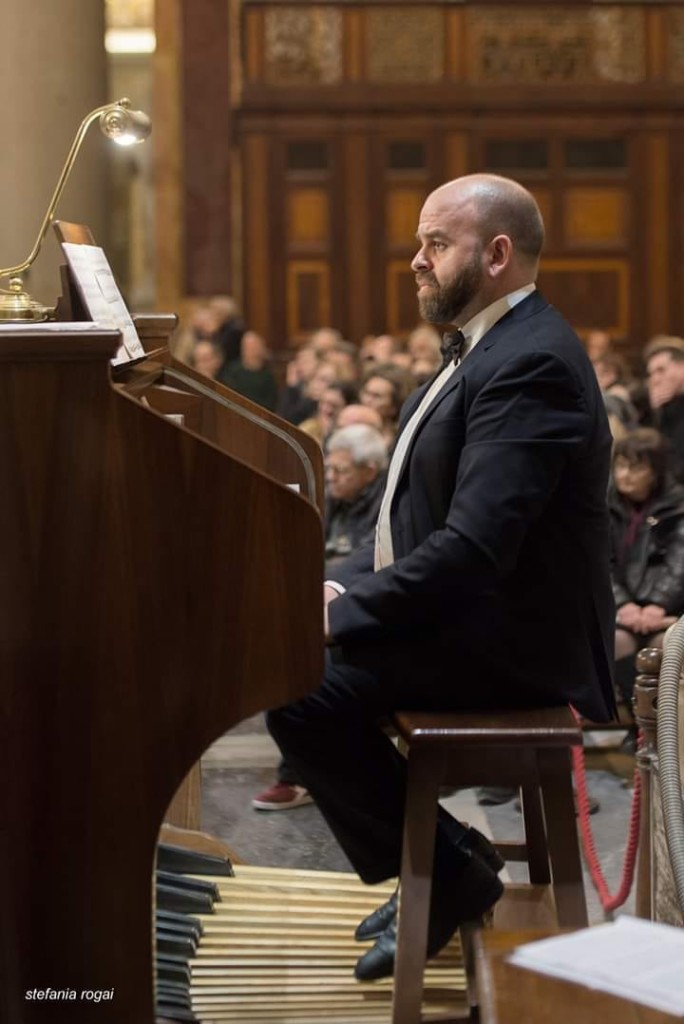 Maestro Christian Alejandro Almada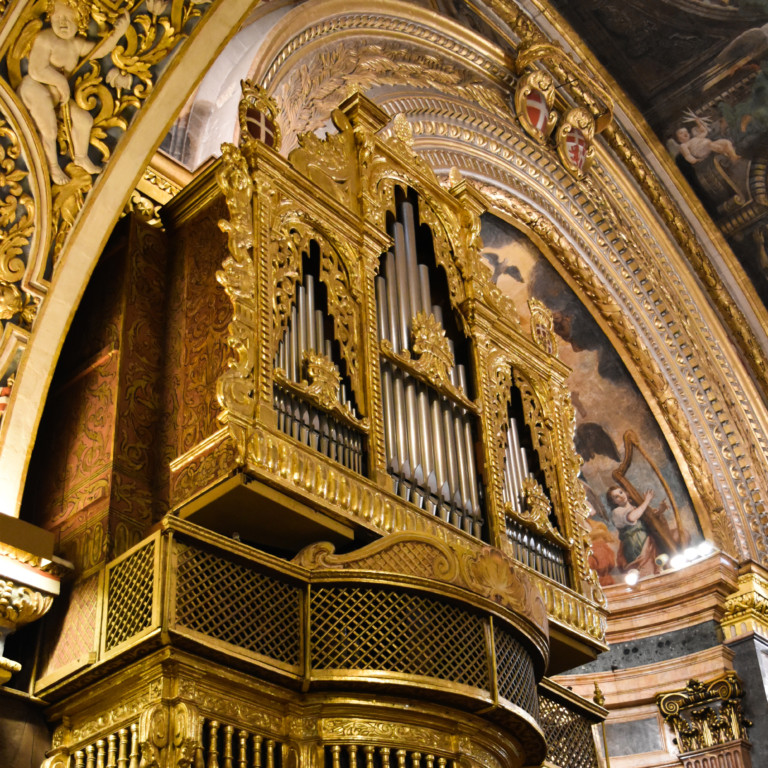 MASCIONI ORGAN: III – P/39 op. 794 (1960)
PROGRAMME
J.S.  BACH                            
(1685-1750)                           
Nun komm' der Heiden Heiland (BWV 599)
Nun komm' der Heiden Heiland (BWV 659)
Kommst du nun, Jesu, von Himmel herunter (BWV 650)
Wachet auf, ruft uns die Stimme (BWV 645)
CHARLES-MARIE WIDOR   
(1844-1937)
from Bach's Memento:
IV. Marche du Veilleur de Nuit
DOM P. BENOIT
(1893-1979)
from Pieces d'argue pour l'année liturgique:
Pour l'Avent: 'Rorate caeli' et 'Venez Divin Messie'
P.A. YON                                
(1886-1943)
"Advent" (First Religious suite for organ):
Prelude (Rorate Coe li)
Introit (Veni Emmanuel)
Offertory (Veni Domine)
Communion (Ave Maria)
Finale (Creator alme siderum)
D EMESSIEUX
(1921-1968)
from "Twelve Choral Preludeson Gregorian Chant Themes for Organ" (op. 8):
Rorate Caeli (Choral orné)
KARG-ELERT
(1877-1933)
from "Drei Symphonische Choräle" (op. 87)
N° 1: Ach blieb mit deiner Gnade
For more information about this event:
+356 22480400 / [email protected]
This event is organised by The St John's Co-Cathedral Foundation.