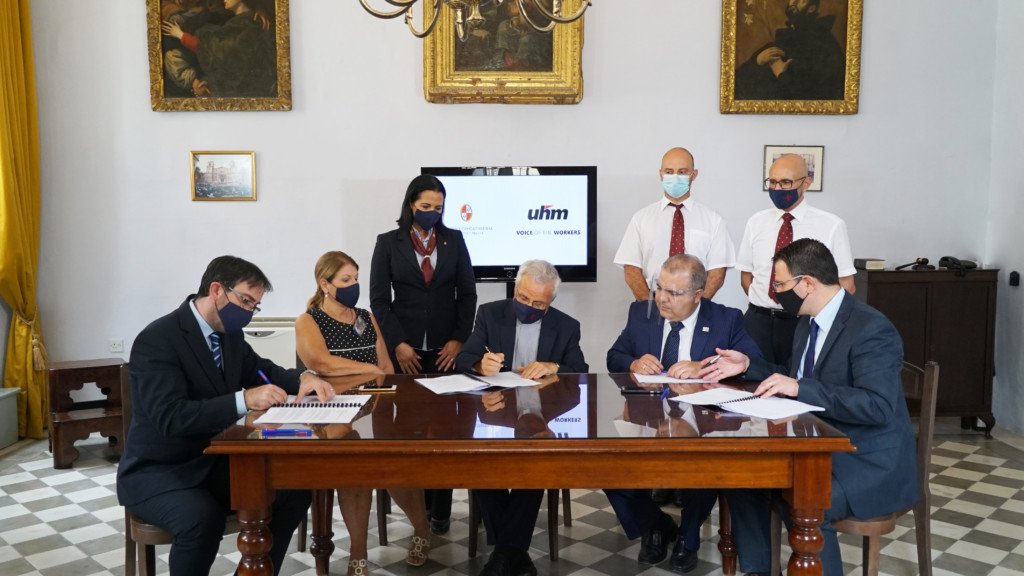 New Collective Agreement Signed Between The St John's Co-Cathedral Foundation and UHM Voice of The Workers
On Monday 5 October, a new collective agreement has been signed between The St John's Co-Cathedral Foundation and UĦM Voice of the Workers, after approval by the employees.
This agreement, starting from January 2020, covers four years and was signed by Mgr Prof. Emmanuel Agius, President of The St John's Co-Cathedral Foundation, by Mr Mario Sacco, and Mr Ramon Francalanza, Assistant Director and Manager of UĦM Voice of the Workers.
Mgr. Prof. Agius said that he strongly believes that the human dignity of the Foundation's employees  is respected when their rights are respected and safeguarded. One of these rights is the right to a just wage. This four-year agreement will see the introduction of higher increments, family friendly measures and better working conditions, structures and opportunities at their workplace. Mgr. Agius commented that this collective agreement is another milestone in the Foundation's pledge to its employees and a concrete sign of gratitude to its employee's commitment and sense of belonging to a dynamic group which is caring for a gem of Baroque art and architecture.
Mr Mario Sacco, Assistant Director of UHM Voice of The Workers stated that the Foundation understood the employees' sacrifices as work continues in this difficult time, and is satisfied with this agreement.
Ramon Francalanza, Manager from UHM Voice of The Workers stated that with this Collective Agreement the workers will enjoy several benefits and their working conditions will improve, not only with increments in wages, but also the possibility to advance in their careers.
In attendance were The St John's co-Cathedral Foundation's CEO/Curator Ms Cynthia de Giorgio and Human Resources Manager Mr Kevin Attard. Also present were Ms Marie Bartolo, Mr Mario Grech and Mr Joseph Pace on behalf of the workers.
Click here to view the Press Release in English
Agħfas hawn għall-Istqarrija għall-Istampa bil-Malti
Photos & Video: The St John's Co-Cathedral Foundation