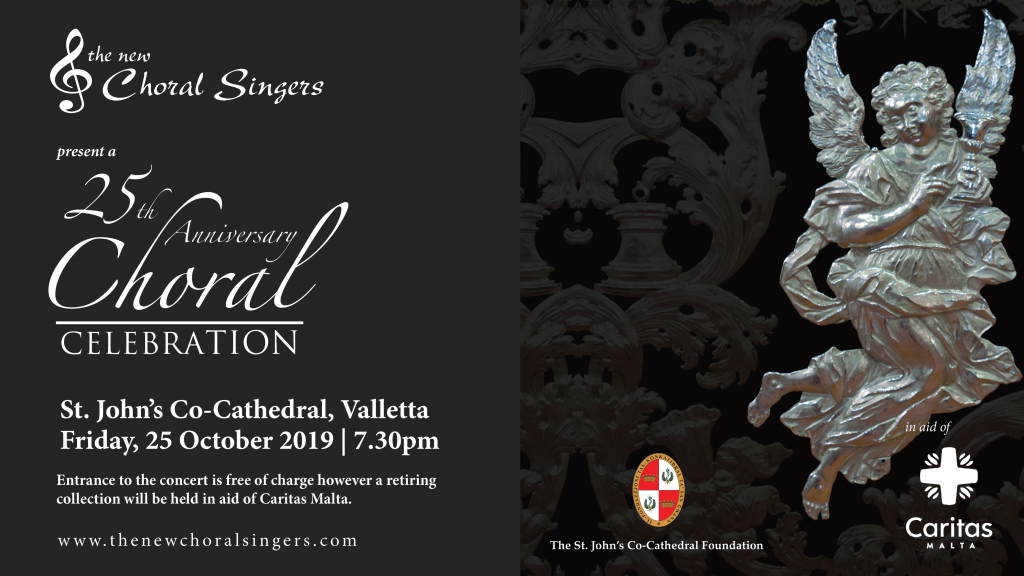 New Choral Singers – Free Entrance at St John's Co-Cathedral
Join The New Choral Singers (Malta) as they celebrate their 25th Anniversary Year through 'A Choral Celebration' in the baroque splendour of St. John's Co-Cathedral.
The New Choral Singers came together as a small group of friends sharing their passion for music back in 1994 and is today a 70-strong mixed choir. From a cappella compositions to music for organ and orchestra, 'A Choral Celebration' will amongst others be featuring works by Antonio Vivaldi, Gabriel Fauré, Hubert Parry, Maurice Duruflé, Mauro Farrugia, and Wayne Marshall.
Wayne Marshall – Guest Conductor/Organist
Mauro Farrugia – Resident Conductor
Marouska Attard – Soprano
Clare GHigo – Mezzo-Soprano
Sarah Spiteri – Orchestra Leader
Irina Fedcenko – Harpsichord
Entrance is free of charge, but a retiring collection will be held in aid of Caritas Malta, which itself is marking 50 years since its inception. Guests are kindly invited to be seated by 7.20pm and to refrain from wearing stiletto/narrow heels inside the Co-Cathedral. The use of flash photography and/or video-recording is also strictly prohibited by the Co-Cathedral's management. (No tickets/reservation required)
The concert is being held by courtesy of The St. John's Co-Cathedral Foundation and with the kind support of APS Bank plc.