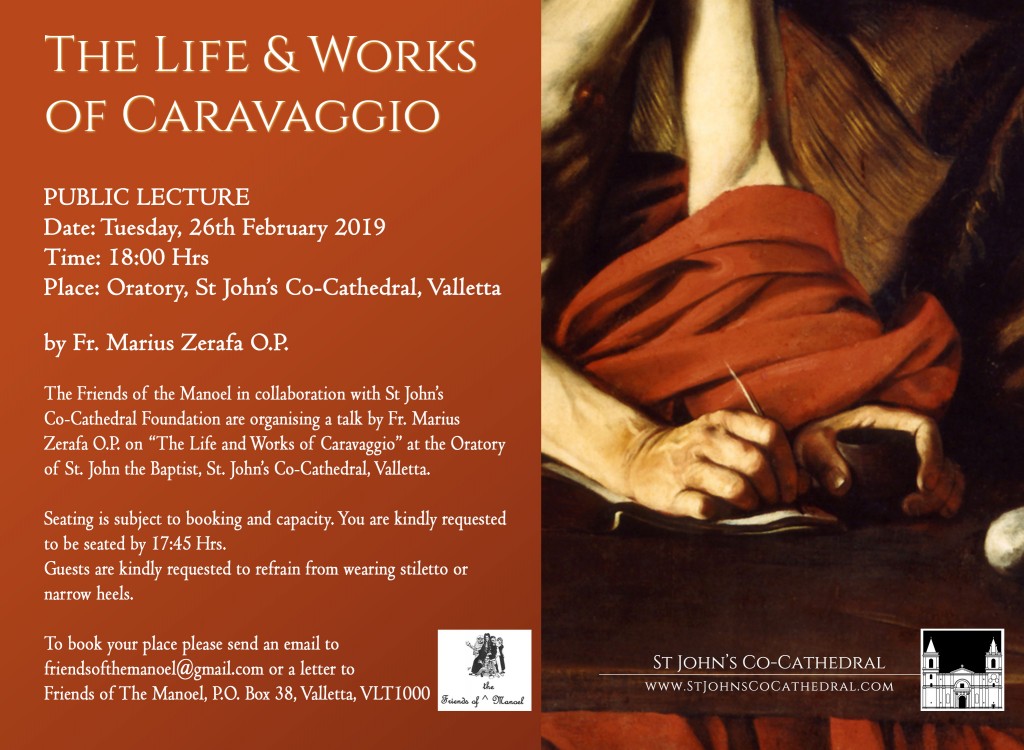 The Life & Works of Caravaggio
The Friends of the Manoel in collaboration with St John's Co-Cathedral Foundation are organising a talk on Caravaggio by Fr Marius Zerafa O.P.
Fr Marius Zerafa O.P. was Curator of Fine Arts and Director of Museums. He was responsible for the opening of a number of museums in Malta and Gozo. He was also involved in the recovery of the painting of "St Jerome" by Caravaggio. His tactful contact with the thieves over a period of eight months resulted in the successful recovery. He has restored works by Mattia Preti, Favray and other Masters. His own paintings and sculptures are to be found in churches and collectors in Malta and abroad.
The talk is to be held at the Oratory of St John the Baptist at St John's Co-Cathedral, Valletta on Tuesday 26th February 2019 at 6pm.
The talk includes the following topics:
1. Caravaggio's escape from Rome to Malta – always escaping prosecution
2. Chiaro scuro effect of Caravaggio and the new interpretation of art
3. St Jerome and the Beheading during the 80's and 90's
4. Restoration in Rome and Florence
Seating is subject to booking and capacity. You are kindly requested to be seated by 17:45 Hrs. Guests are kindly requested to refrain from wearing stiletto or narrow heels.
To book your place please send an email to [email protected] or a letter to Friends of The Manoel, P.O. Box 38, Valletta, VLT1000.